Used Shipping Containers for Storage
These units have doors on both ends for easy access. Standard units are roughly 8′ wide and 8.6′ high and they all have wood floors.
These containers are a great storage option due to their convenient size and affordability. 20′ Containers will fit in a typical parking spot or behind your house or office building. Containers are durable and have a long lifespan, so they will likely retain their price when resold later. On used containers there will be cosmetic imperfections (dents, dings, patch work, etc.) but the doors will properly open and close and will provide a tight seal.
We customize! Do you need a unit with a door on the side? Do you want the unit painted a certain color? Do you want a security-enhanced lockbox to block bolt cutters? Let us know what you need!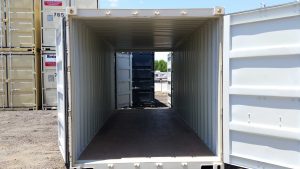 Shipping containers are generally manufactured in Asia, loaded with freight, and then delivered by ship to the United States. Once they are done as shipping units, these containers are ideal for home and business storage, plus countless other uses. (People are turning them into homes!)
The length of the containers is either 20′ or 40′ and the dimensions of the standard units are roughly 8′ wide and 8.6′ high. We also have High Cube units that 8′ wide and 9.6′ high, and most High Cubes are 40′ long.